PVC Curtains and Doors
Individual PVC curtain strips overlap each other to form a flexible sheet that will cover any size opening yet still be accessible to vehicles and pedestrians. They are a very low cost solution to many companies energy problems.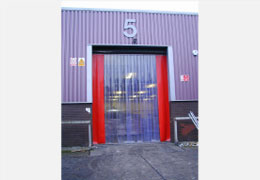 Lowering Costs through reducing wasted energy with PVC Curtains & Doors
While plastic curtains are commonplace across many industries, not all companies are aware of their benefits. These include:
Maintaining temperature on either side of the access way

Conforming to health and safety regulations

Provide a high visibility on either side of the curtain

Lowering the amount of noise pollution

Stop rodents and airborne pests gaining access
Our plain plastic curtains come in two designs, one which has smooth sides and one with ribbed. Our ribbed curtains come in either: 400mm wide x 4mm thick or 400mm wide x 6mm thick. Our standard curtains come in sizes: 200mm wide x 2mm thick, 300mm wide x 3mm thick or 300mm wide 5mm thick.
We would generally suggest choosing a thicker or ribbed curtain for high traffic areas.
Our installation service can be provided across the nation, but we also offer curtains on a supply only basis for you to assemble should you wish.
Plain PVC Rolls
We can install our curtains with a selection of fittings depending what your requirements are. 'Hook on' fittings make it a simpler task to replace strips should you ever need to, plus cleaning becomes a lot less of a job. However, 'Bolt on' fixtures are much more hardwearing so more suitable to high traffic access ways.
Our curtains are also offered as a sliding curtain in places you don't want vehicles to access, garages and loading bays often use this method. The curtains are attached to a track which has rollers to allow you to slide the door all the way across, or just have half the PVC curtain move.
If you are unsure about any of the information regarding the sliding doors or want to discuss suitability, please call our customer advice line on 01652 573971 and we will be happy to help.
Polar Grade PVC Curtains
When you need to maintain an extreme temperature, Polar Grade Curtains can provide a much more efficient insulation and will remain more flexible even in minus temperatures. These curtains are most commonly seen in chilled areas such as walk in freezers, vehicles with a freezer compartment and freezer cabinets.
The recommended temperature for Polar Grade Curtains is between +20°C to -15°C

The curtain can handle up to -33°C, while it will flex a little, it will be much harder

The curtain is likely to break anywhere around -65°C
The Polar Grade curtain comes in only one size, 200mm wide x 2mm thick strips. These can have slots added to them if you require more flexibility, for chiller cabinets for example.
Assembled PVC Door
Please bear in mind that all sliding curtains or jobs which require more steelwork cannot be supplied on a self-assembly basis. These options will need to have a full installation by a member of our team.
All other products are available on a supply only basis, but we are happy to fit these nationwide if you would prefer.
Plastic Curtains: "Day Glo" Edging
We often supply red strips at each side of a plastic curtain in order to make them more noticeable, for instance for fire exits. We also offer a new alternative, "Day Glo". This edging is ideal for conforming to health and safety regulations as it clearly shows important entrances or exits. This is especially useful for vehicles. If you operate your business late into the evening, or even on a 24hour basis, the edging also has a glow in the dark effect to make it even more noticeable.
Ribbed PVC Rolls
As we briefly mentioned earlier, ribbed curtains are perfect for high traffic access ways. Due to the ribs on the curtain, the risk of scuffing or scratching the curtain is much lower, allowing visibility for longer, maintaining the lifespan of your curtain.
Welding Grade PVC
These curtains come with an amber or green tint which is designed to reduce flash on the other side of the curtain. They are designed with welders and welding equipment in mind.
Sheets Of PVC
We can supply plastic sheeting as well as our curtains and doors. We offer all manner of thicknesses from 2mm+
These can be supplied in any width from 1000mm wide to 2200mm wide.
To discuss plastic sheeting sizes and thicknesses, or if you would like to discuss any of our other products, please call 01625 573971 and we will be happy to help.